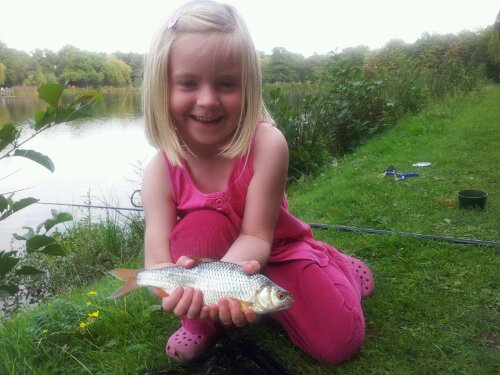 When was the last time you visited Cwmbran boating lake? I popped there late yesteday afternoon with my daugher to go fishing. The car park was packed. We probably go there once a month to walk around the lake and play in the park. An arson attack demolished the old boathouse a few years ago. Money from various pots was found and this is how the South Wales Argus reported the news of the improvements. That story was in 2008 and now all the work is complete.
It is a cracking place and holds a lot of memories for me. I caught my first fish from peg 19 in about 1986. My 5yo caught her first fish there in July at a free'try fishing' event organised by local fishing clubs, the Environment Agency and the Federation of Welsh Anglers. The official name of the national lottery funded project is the Torfaen Angling Participation Project. Since then she has been nagging me to take her fishing so we popped to Argos and picked up a starter kit.  The next stop was Cwmbran Angling Supplies in Pontnewydd for half a pint of coloured maggots. A boating lake fishing permit for a junior cost £4 which I thought was quite expensive. But as she is under 12 she did not need a rod licence from the Environment Agency.
Fishing is in two sessions 8am to 12pm and 5pm to 8pm. That is because the good old rowing boats have returned on the lake and the smaller paddle boat pond. Fishing stops from 12pm to 5pm.
This is a video I put on you tube about the boats coming back to the lake after a gap of at least ten years. I can't remember the exact year or why they stopped being hire out.
[youtube http://www.youtube.com/watch?v=JP_uBPRfKSU&w=420&h=345]
If you haven't been to the lake for the last two years you won't have seen the path that takes you away from the lake and alongside the Afon Lwyd. The slideshow below show how the path winds its way through the wooded area at the bottom end of the lake.
[slideshow]
There is also a good cafe with indoor and outdoor seating. I plan to try and have a chat with the owner.