Friends of a Cwmbran resident who died with cancer in May have raised £6,200 from a football match so his eight-year-old daughter can go to Disneyland.
Dominic Halpin grew up in Newport but lived in Greenmeadow. He worked at B&Q stores in Newport, Cwmbran and Bristol.
His lifelong friend Jamie Sinclair said: "He went to hospital and had the diagnosis. He told me and you try to be positive but deep down you know. Within the space of four weeks it has spread through his liver, kidney, stomach and spine.
"He was one of my best friends as we had a small group growing up. We played football together, went away in our group of mates every year to Newquay on a lads' holiday and lived together for a year. He had a lot of friends. Everyone loved him, he was a bit of a social butterfly even if he never knew it himself.
"We are all from Pill originally. When we were 15 or 16 we set up our own football team, the Docks Cons FC. We were awful and didn't win a game in our first year but in our second year we won the league.
"We organised a football tournament with our old team against the All Sorts. There were about 60 footballers who took part with around 200 spectators on the pitchside and 100 came to an event in the night. This included his eight-year-old daughter, Amelia, Danika Jones, his ex-wife, his mum and brothers.
"We can't change Amelia's life. Dom had a dream of taking her to Disneyland. I thought 'we can do that.' It has grown to a lot more than I could ever imagine. It's gone crazy, people still want to donate.
"He loved Welsh football and was part of the Red Wall membership. He went to every game. One of the boys was like 'we are part of the Red Wall so tweeted about it. Noel Mooney, the head of Welsh football tweeted about it and then so did Gareth Bale. Incredible. Then at the Ukraine game the Football Association of Wales put his photo up on the big screen at half-time.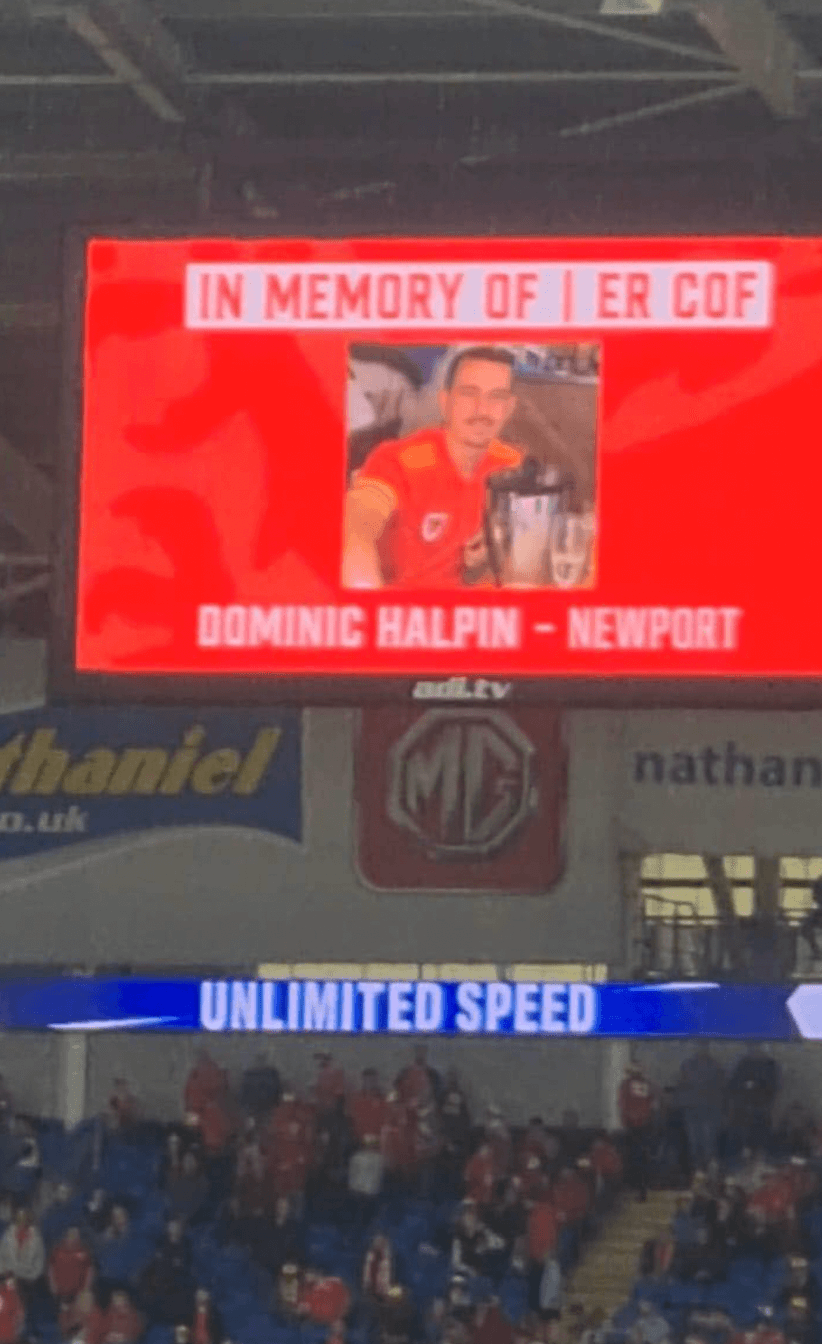 The tweets from Noel Mooney and Gareth Bale
Really sad to hear of the passing of Dom Halpin, thoughts are with his family. #TogetherStronger 🏴󠁧󠁢󠁷󠁬󠁳󠁿❤️ https://t.co/VqJtYppMBX

— Gareth Bale (@GarethBale11) May 24, 2022
"The Ukraine game would have been the biggest day of his life. For the FAW do that was incredible."
Jamie and his friends are already planning their next event. He said that any money will help Amelia do things that she may have missed out on with her dad.
He said: "The money will go in a trust and pay for a holiday for her each year. Dom wanted to take her to watch wrestling. We can give her memories that her dad wanted her to have.
"Lee Drew helped organise the football match. He was a driving force. The two of us are cycling to Newquay next year to raise more money for Amelia. Every June a group of his friends would go to Newquay. We called ourselves the Inbetweeners, as none of us were very cool. I just want to spread the word of Dom. We want people to get checked out. If you have an ache or pain get it checked out." Dom's colleagues at B&Q set up a GofundMe page which has already raised £10,862.