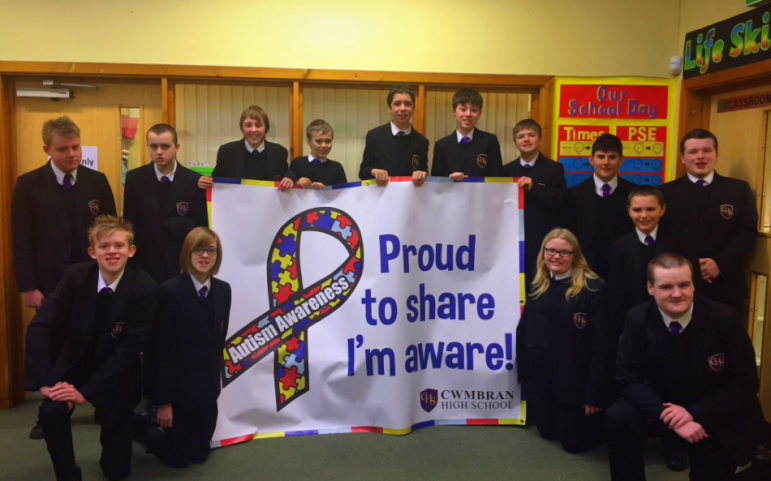 Businesses in Cwmbran have been showing their support for World Autism Awareness Week 2017. Cwmbran High School hosts a support base for pupils with autism and they have been leading the campaign.
They are each doing an hour of work experience with 17 different companies to show that people with autism are employable.
Lots of Cwmbran companies are taking part along with organisations like BBC Wales and local football club Newport County. These lovely photos show how successful it has been so far.
We have some very special guests at training today! #NCAFC #CountyConnected #autismawarenessweek pic.twitter.com/c3TDkz5zsK

— Newport County AFC (@NewportCounty) March 28, 2017
Newtown Motors are Proud to Share they are Aware! ???? pic.twitter.com/ZoofwObIfN

— ASD Cwmbran High (@proudtoshare) March 28, 2017
Festive Productions are Proud to Share that they are Aware! ????#WorldAutismAwarenessWeek pic.twitter.com/Xkajj8aTVJ

— ASD Cwmbran High (@proudtoshare) March 28, 2017
Thankyou Croesyceiliog Playgroup for supporting our Employ Me project ????#WorldAutismAwarenessWeek pic.twitter.com/C3NoFV1DLn

— ASD Cwmbran High (@proudtoshare) March 28, 2017
Newport County are Proud to Share that they are Aware! pic.twitter.com/h5VF5qJ4RE

— ASD Cwmbran High (@proudtoshare) March 28, 2017
Thankyou The Entertainer, Cwmbran for supporting our "Employ Me" project ???? pic.twitter.com/C2Cmov7Gh2

— ASD Cwmbran High (@proudtoshare) March 27, 2017
Thankyou Blitz Media for supporting our "Employ Me" project ???? pic.twitter.com/GYVhiXfJSd

— ASD Cwmbran High (@proudtoshare) March 27, 2017
Thankyou Complete Kitchens and Bathrooms for supporting our "Employ Me" project ???? pic.twitter.com/kMY6KtZHUp

— ASD Cwmbran High (@proudtoshare) March 27, 2017
Complete Kitchens and Bathrooms, Cwmbran are Proud to Share they are aware! Thankyou x pic.twitter.com/ZbTo54rui7

— ASD Cwmbran High (@proudtoshare) March 27, 2017
The Entertainer, Cwmbran are Proud to Share they are aware! Thankyou x pic.twitter.com/BPZ93Mgczi

— ASD Cwmbran High (@proudtoshare) March 27, 2017
Our Autism Awareness "Employ Me" project began today! Huge thanks to Screwfix, Cwmbran. pic.twitter.com/IXijxnz3xy

— ASD Cwmbran High (@proudtoshare) March 24, 2017
@Festive_UK Thankyou for supporting our project today????#autismawarenessweek pic.twitter.com/l8ZRNAyd4k

— ASD Cwmbran High (@proudtoshare) March 28, 2017
@NewportCounty thanks for supporting our project today. Looking forward to seeing you on Saturday #AutismAwarenessDay2017 pic.twitter.com/uy7FkvsqtG

— ASD Cwmbran High (@proudtoshare) March 28, 2017
UK Autism Ambassador Anna Kennedy OBE tweeted this lovely message of support to the pupils
@proudtoshare so impressed with all the students this week raising #autism awareness in the #workplace for #WorldAutismAwarenessWeek great!

— Anna Kennedy OBE (@AnnaKennedy1) March 28, 2017
Get involved in World Autism Awareness Week 2017