Sarah Campbell has been helping homeless people since 2018. One of her friends shared an appeal on Facebook to join him and volunteer with Eden Gate, a Newport-based charity.
The charity welcome people who can spare any time at their centre. Sarah shares her experience of supporting homeless people in the area and encourages more people to volunteer.
"I started volunteering for Eden Gate in 2018, after I could see how much of a problem homelessness was becoming in my hometown of Newport. When I went shopping in town, I would always try and give every homeless person I saw £1. One day there were so many I couldn't afford to do that! Then I started thinking about what other practical ways I could help. As if by magic, a few days later a friend of mine, Kevin was sharing a link to Eden Gate on Facebook, asking people to consider volunteering for the charity. I got in touch immediately, and after doing my hygiene training online, started cooking for the guests at the hostel.
"When I first started volunteering, I would offer an evening during the week and as part of the Newport NightShelter service, all volunteers would help prepare and cook a two-course meal, sit and chat with the guests, and clean up before leaving them all to good night's sleep, off the streets and in warmth, fully-fed.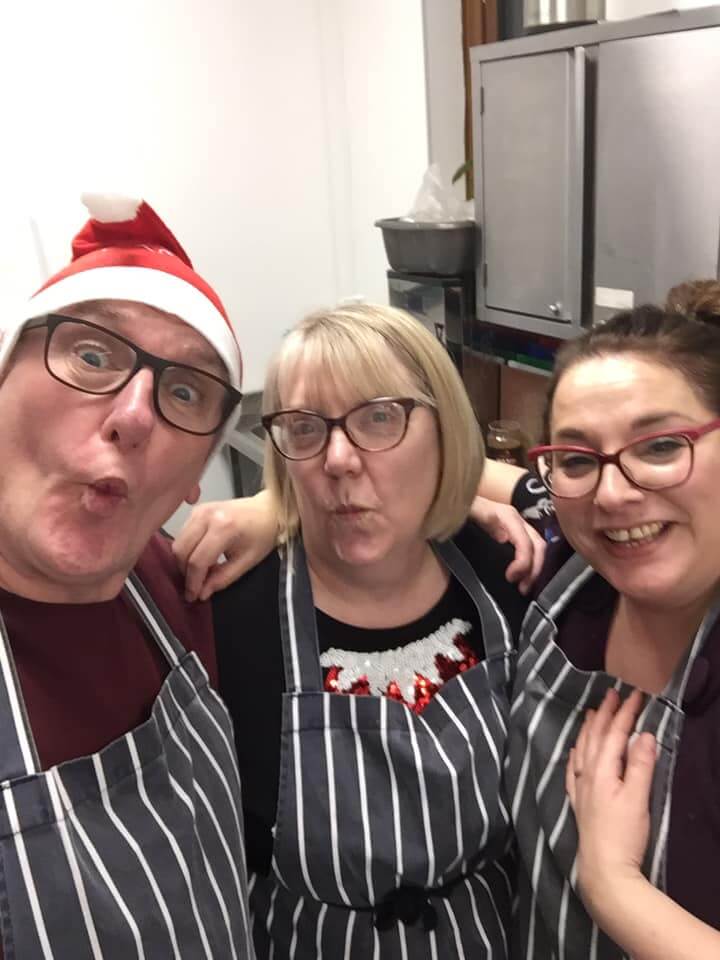 "Whilst Covid stopped the NightShelter in 2020, Welsh Government housed and fed the homeless in hostels and hotels during the lockdown, and Eden Gate continued to offer outreach and drop-in services.
"I've returned in recent months to help with their morning drop-ins (10am until 1.20pm), making tea/coffee and toast for guests. Eden Gate also have lots of other activities going on at the centre, but also in the community – the guests are doing gardening and growing their own food at the centre, and they help clean out the animals in All Creatures Great & Small in Cwmbran, for example.
"I know how much the charity relies on volunteers and sometimes can't open because they don't have enough people. I'm fortunate to be self-employed, which means I can make my work hours up later in the day, so I try and help out as often as I can. Some people volunteer the same day every month, others come in every fortnight and some, every week. The staff are just really grateful for the help from volunteers, and also arrange volunteering social events, and make you feel part of a family.
"I've long had a passion to help the homeless and help set up a Music Room in a project called The Pilot Project in the early 2000s, working with the clients to song-write, build their confidence in performance and recording. It's nice to be volunteering again, working alongside to the most vulnerable in society.
"People are so quick to make negative comments about the homeless, dehumanising them and making huge assumptions about them. I strongly believe that anyone could find themselves homeless; the phrase 'we are only two pay packets away from the streets' is now actually 'one pay packet'. I can't imagine how much worse it'll be this winter, with the cost of living crisis and people ever closer to the poverty line, and Food Banks being used more than ever. I genuinely fear for the poorest in our society now, so I feel like it's even more important to help places like Eden Gate, by doing a few hours to help ensure people don't go hungry this winter.
"It's really heartening to see guests getting back on their feet, growing in confidence, working through various programmes with the staff, and becoming Eden Gate volunteers themselves."
Volunteer at Eden Gate
Where is Eden Gate?
25 Hill St,
Newport.
NP20 1LZ