The Veganuary menu at the Queen Inn in Cwmbran has gone down a storm with vegans, vegetarians and people who are curious. I fall into the curious category so was easily persuaded by my wife and some friends to book a table.
If you haven't heard where have you been for the last month? The family-run pub decided to join in Veganuary– a challenge where people are encouraged to avoid meat, fish and dairy products for the 31 days of January. It's a diet that "contains only plants (such as vegetables, grains, nuts and fruits) and foods made from plants."
Jane runs the pub with her husband Gareth and their son, Ryan. It was Ryan's idea to drop their usual menu and go vegan for the month. And it's not just the menu, the snacks and drinks are vegan too.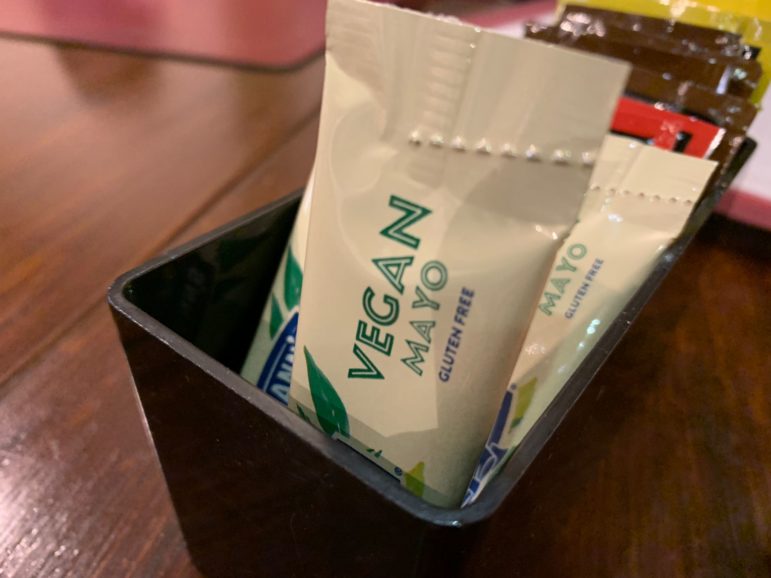 A mate has been vegan for as long as I've known her. We've ate together in pubs, cafes and even at a few posh awards dinners. Every single time the vegetarian/ vegan option is bl**dy cr*p. It takes a few scans of a normal menu to find the meat-free section. At an expensive awards night it must be frustrating to see you've paid the same price as everyone else but you're only option is something bland with lentils.
This is where the Queen Inn has stepped in. No need to hunt out the meat-free section. A story in the national news last month claimed that 'more than a third of people in the UK are interested in becoming vegan' so it seems logical that vegans should get a few more choices on a menu.
Trying out the Veganuary menu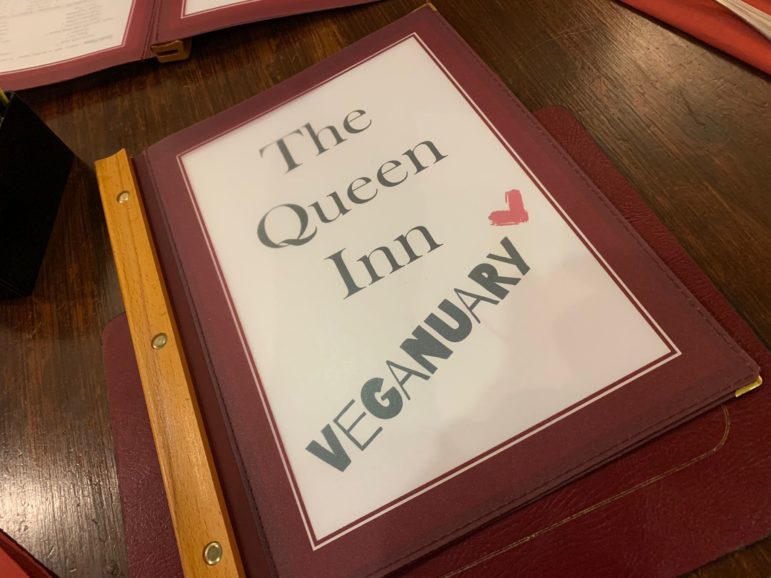 Booking a table was the first challenge. A Facebook post from the pub last week said that every Friday night, Saturday and Sunday daytime were already booked up for the rest of the month. Can you ever remember a food place in or around Cwmbran being difficult to book a table? This was a first so I went from being curious to being desperate to find out what the fuss was about.
The good news is it's easier to get a table on weekday evenings. We went for a Tuesday and as children were joining us we chose a nice and early 5.30pm sit down. If you do fancy a weekend booking give them a call on 01633 484252 or message on Facebook and you may get lucky with a cancellation If you do have to cancel please do it as soon as possible so they stand a chance of getting someone to replace you. That's not just for this pub. A no-show is a poor show and pubs are having a tough time.
The asterisks
We had a warm welcome and were shown to our table and handed a menu where I was immediately drawn to the asterisks. It was like a game of hangman with words like ch*cken and b*con. The funny thing was a few times we actually said 'is it all vegan?' This was despite seeing the story appear in the local and national papers, social media and even on ITV Wales. Yes, it's true. EVERYTHING on the menu is vegan. I hate myself for using this word, but it all seemed so normal. 
Landlord Gareth took our drinks order. My trips to the Queen Inn usually involve a pint of cask ale. Yep, even the drinks during January are vegan. Two minutes later I was supping a perfectly poured pint of Pure UBU from Purity Brewing. I'm easy to please so after my first sip (and it tasted normal) I was ready choose a meal.
The food
Take me to any pub and nine out of ten times I'm going to choose a burger. Ok, so I'm boring and predictable but my wife loves me 😅. This time I was in a one out of ten mood (to keep my wife on her toes).
I went for the chicken and bacon tagliatelle carbonara. No sorry, that's wrong. I actually picked the ch*cken and ba*on tagliatelle carbonara and I'm glad I did. It was superb.
Vegan is plant food. Don't think for a moment you will finish your plate and feel hungry. The portions were big and the plant substitute for the meat in my meal had bite, texture and flavour.  It was so filling. This pub is known for decent portions and from what I saw on my plate and the others on my table they aren't skimping for Veganuary.
Cwmbran on the food map
Pick up the phone and (try to) book a table. Support a local pub doing something different that has put Cwmbran on the food map for the first time!  Come 1 February you'll regret it if you haven't tried the food. Normal has been overused in this review but every time it's been tongue-in-cheek. The food is anything but normal.
If you're vegan or vegetarian you won't need persuading. If you're curious like me get your table booked sooner rather than later.
Now I've said that it's time to enjoy some photos of food. Scroll to the bottom for the menu.
Photos of the Veganuary food at the Queen Inn