Residents have started a petition to campaign for speed enforcement measures on Llantarnam Road.
The road had a 40mph limit until 2013 when it was reduced to 30mph. But residents say they regularly witness drivers tailgating, breaking the speed limit and overtaking cars that are driving at 30mph.
Click here to sign the petition.
James Oliver is part of the group who set up the petition. He said: "I moved to Llantarnam with my family in 2016. It is so striking, the speed that people drive. Being law-abiding citizens as we are, coming down at 30mph there is always people right up behind you visibly getting frustrated which is an annoyance in itself.
"We walk to the park, to Oakfield Gardens, to the shop, we are always on Llantarnam Road and anyone I've spoken to is so clear how frequently people speed. Something needs to be done.
"So at the moment the only action taken to manage speed along Llantarnam Road is a 30mph zone at the entrances. We know that by law you can't have repeater signage but there is so much more the council, and or the police could do to further enforce the speed limit.
"The speed limit used to be 40mph. It was dropped in 2013 after what I understand to be a 13-year campaign, which a lot of local people were involved in, including Mike Villars, our local community councillor.
"But it's been forgotten about since then and in a lot of people's mindsets it seems to be that 40mph is acceptable, even 50mph when it's a 30mph zone. It's a drag strip at times, it really is. So something needs to be done. About three or four months ago we took the decision to have a bit of a group meeting in Oakfield Flower Gardens with a few people we thought might be interested in taking some action.
"The kind of things that came out of it were signage stickers to go on bins which you may see along Llantarnam Road which is great, a petition to formalise the local feeling about this matter in a format that can actually be taken to somebody in power to act on it. We've identified the Crime Commissioner for Gwent as the relevant person. The enforcement of speeding is a police matter and the person who is quite vocal about that is Jeff Cuthbert, the commissioner.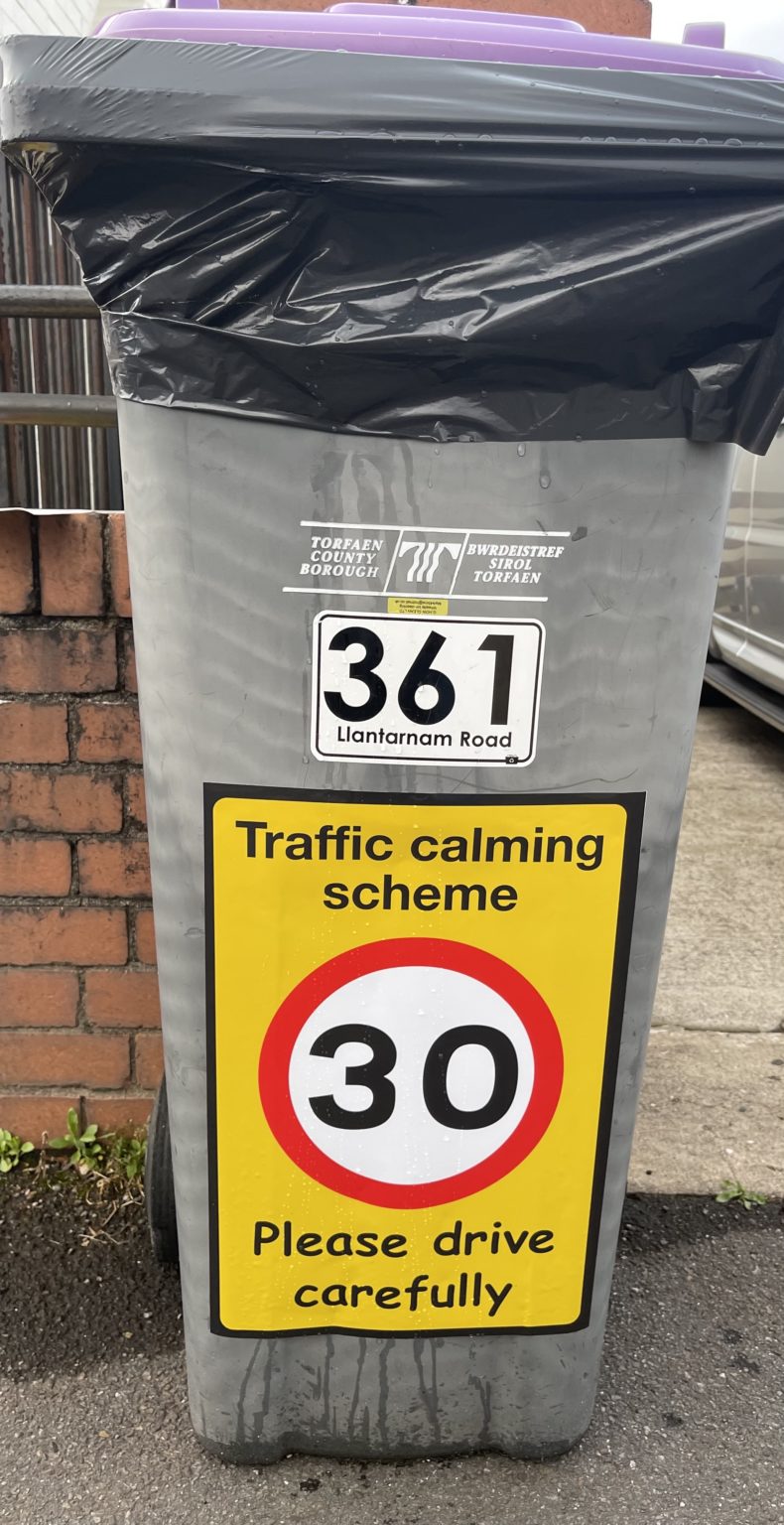 "Other things we are trying to address as a group are speed indicator devices which require funding which is going to be tricky. It tells you the speed, it doesn't get reported to the police but it's a visual reminder to anybody going by that this is a 30."
Bethan Oliver said she had seen cars going up to 70mph: "We just want to make it safer especially for the families that continually use the road. It's families with children who use the primary school, the nursery and lots of children walk to the secondary school, to get to Croesyceiliog. So the petition is to get as many people as possible to sign it so that we can go to the commissioner to put something in place to make it safer."
Community Councillor Mike Villars said: "I am interested in getting drivers to observe the speed limit along Llantarnam Road. Only a few weeks ago I turned onto Llantarnam Road from Newport Road and within 150 yards was overtaken by two Range Rover drivers who sped away from me at speeds well in excess of 50mph. I have also observed some drivers overtaking others at crossing points which is obviously very dangerous for pedestrians as well as other drivers.
"I wouldn't say that I had a big part of getting the speed limit reduced from 40mph to 30mph. At the time I attended a number of meetings held by LOCA (Llantarnam and Oakfield Community Association) and as part of their attempt to get the speed limit reduced, I did write to the Highways department at Torfaen CBC. I think the main problem was the council's refusal to accept that Llantarnam Road was no longer a Trunk road even after both the A4042 and the A4051 had been built which took all the pressure off Llantarnam Road.
"Of course, at the time Llantarnam Road was 40 mph while within just over ½ mile there were entrances to a nursery, a primary school and a secondary school so that speed limit was far too high and residents were very happy when the council reduced the speed.
"However, since then there is still a lot of speeding both along Llantarnam Road and Oakfield Road.
"Unfortunately, the council won't allow repeater 30mph signs along the road so the only place you see the 30mph sign is at the junction of Newport Road and Llantarnam Road and also at junction of Llantarnam Road and Henllys Way.
"As a member of LLARCS (Llantarnam Residents Conservation Society) I also do a lot of work in Oakfield Flower Gardens and regularly hear cars and motorbikes driving far too fast up Llantarnam Road and Oakfield Road. I am happy to work alongside James and Bethan and others to try and resolve the problem and I am investigating whether Cwmbran Community Council can help with this problem."
Councillor Dave Thomas said: "This is obviously not a new issue. Speeding on Llantarnam Road has been an issue ever since I was elected. To combat this I set up Llantarnam community speed watch group with the help of Gwent police. Any councillor can do this and you get a speed gun, signs and report sheets for you and your volunteers to go out and regularly conduct speed checks with your own personal speeding equipment courtesy of Gwent police.
"You record registration numbers of speeding cars and send these reports into Gwent police for them to take action.
"Speeding on Llantarnam road is a huge problem and before covid we were having success with our regular speed checks. Obviously, with covid these checks stoped but will resume now restrictions have eased.
"I have also bought these 30mph stickers for residents of Llantarnam, Oakfield and Llewelyn Road to have off me to stick to their bins. On bin day we are helping to create speeding awareness on our roads. Any resident of the above three roads can request a sticker from me and I will deliver free of charge." If you want one email [email protected] or call/text 07889 847411.
Sign the petition
Click here to sign the petition for speed enforcement meausures on Llantarnam Road.