Rhiannon Lewis set up Jacob's Boutique in 2017. Cwmbran Life is putting the spotlight on independent businesses in and around the area. Covid has been a challenge for businesses so this is a chance to think about where you spend your money. 
Research by Keeping it Local said when you spend a £1 with a small/medium-sized business around 63p remains in the local economy. Only 40p stays local when you shop with larger businesses. The money you spend locally is circulated through local businesses helping them to grow.
Every business owner has a story to tell. We spoke to Rhiannon and asked her a few questions. 
What is your business?
Jacob's Boutique is a local vibrant business, providing valued customers with ethical and sustainable fashion, uniform and accessories. We take pride in designing and creating fun, unique and inclusive items for all ages and for all shapes and sizes. No one is left behind. 
We want to share our self-love, body positive ethos to everyone! That's why we include a mixed range of sizes and designs from birth to adult. It's why we offer custom-made orders and the reason we only share inclusive images and values. Jacob's Boutique proactively encourage all humans to love their beautiful bodies and embrace individuality. We want to live in a world of sustainable fashion, that's good for our planet and purses.
We offer handmade clothing and accessories for babies, kids and adults as well as embroidery and vinyl printing services both for individuals and businesses including corporate businesses. We have expanded our handmade products and services recently as we have been lucky enough to employ a member of staff working at our Cwmbran workshop part-time. 
Our customers love us because we provide fun, alternative, unique high-quality clothing. They love how fun our brand is and how accommodating we are. We post fun and engaging content on our social media and are working towards growing a community of people who love their bodies, feel empowered and have the positivity and mindset to go get their goals, wear what they want and care less for things that do not bring them joy.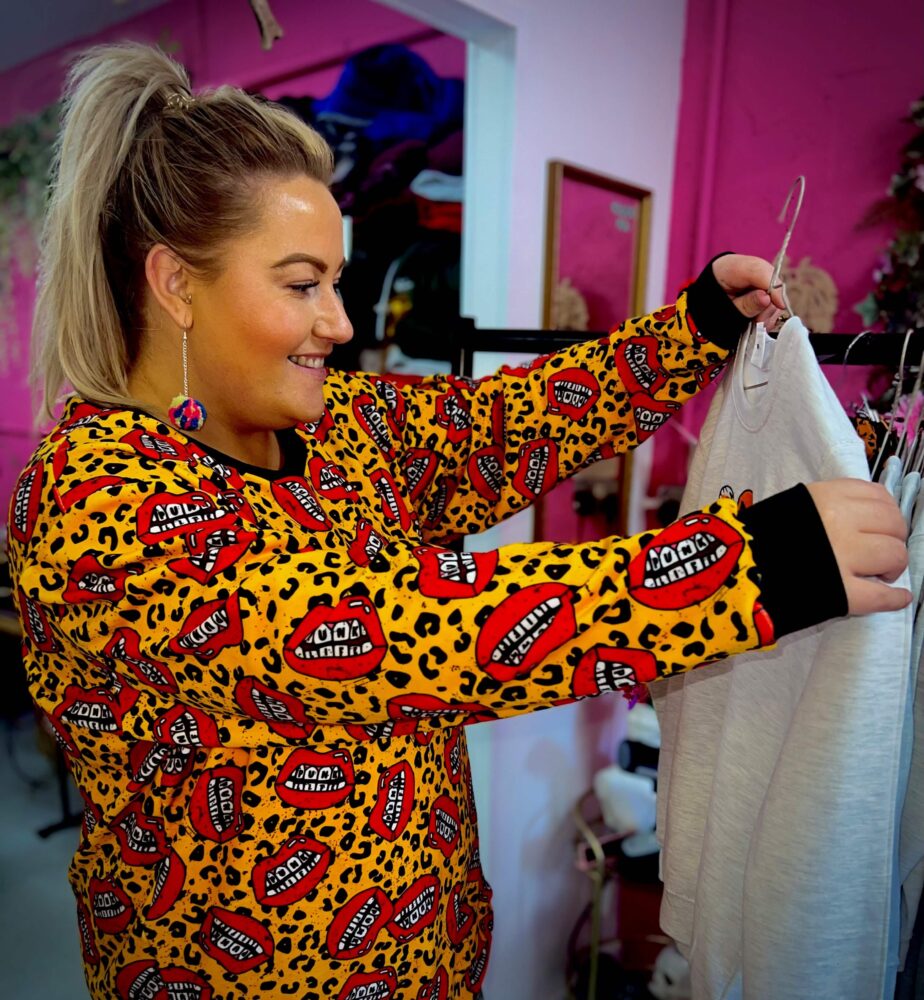 Why did you want to work for yourself?
I have worked in a corporate career all of my life, and for me things got harder and harder after I had my son with commitments and working away. I always felt like a burden, and at the same time felt that work massively got in the way. During Covid I became very unhappy at work, and this affected my vision and goals massively, I lost confidence and importantly lost myself. Jacob's Boutique was running in the background throughout part of my career and whilst I dreamt of it being a full-time career for me, I never believed it would grow enough in order to replace my working salary. However in September 2021 I took the decision to leave my full-time job to pursue my dream of running my business full-time, and one year on I have not looked back. I worked hard to educate myself, and empower myself to believe this opportunity would be the best one I have taken yet.
Working for myself has changed my life massively. Yes, it's still hard work and I still work long hours. But I have the control to work when and how I like. I'm able to make decisions quickly, I am able to be creative and enjoy what I do. I'm also able to take the time to do the school runs, watch my son's plays and take time out where needed with my family.
I love the freedom I have, and I love how empowered and confident the new me is! I would urge anyone who has a goal or dream to truly believe in themselves to take this leap. Plan of course, and most importantly educate yourself. I learn something new every single day and ensure that I implement reading and courses into my working week to ensure I am always up to date with new trends, legislation and basically anything related to my business. 
What are the best things about running a business and what are the challenges? How have you overcome the challenges? 
The best things are definitely having the power to make decisions and embrace my creativity. I love that I have the freedom to be with my family and friends when I can and attend important ceremonies and events. I love the impact I am making to the confidence of my customers and followers through making the most amazing clothing that cater to everyone. I am literally in my element, in my pink palace (My workshop) and feel very grateful.
For me, the challenges I have faced have been surrounding marketing and social media. I have recently been involved in many networking meetings that have helped me massively with my confidence and knowledge around what to do for the best within my business. It is very difficult as a new business to discover agencies that can help you, and can understand your business nearly as well as you do in order to help you promote, grow and make positive changes that impact growth. My advice to overcome such challenges is not to get overwhelmed. Do your research, and make sure you work with agencies who firstly you like, and that engage you. If they engage and encapsulate you, they will enable you to do the same with your clients.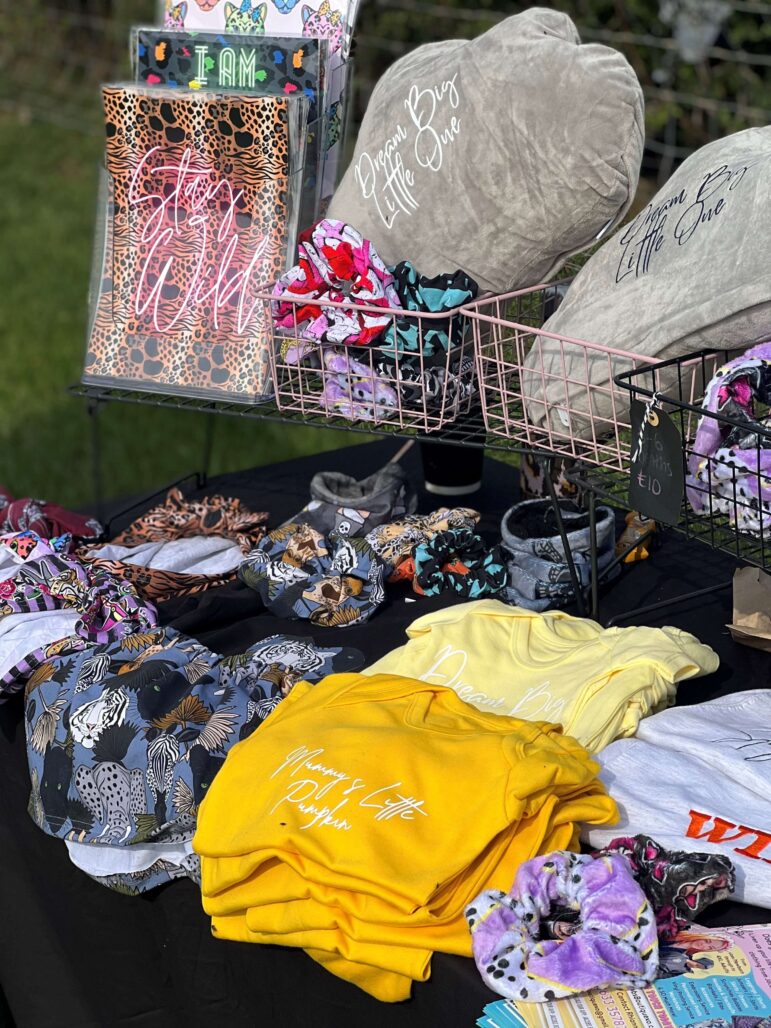 What advice would you give to someone thinking about starting a business?
Firstly, if you have a business idea (or even an idea in general) run with it. Plan, plan and plan again. Failing to plan, is planning to fail and it's something that has always stuck with me. You can never learn enough, so read and join courses to ensure you feel confident with your knowledge level in order to carry out your business idea.
Do not be afraid to ask for help, and do not be afraid to stand your ground and go with your gut instinct.
Empower yourself and ensure you take care of yourself. The best version of yourself will provide the best business, and the best quality of services or products to your customers. And lastly, believe in yourself. If you don't, who will?
Tell us how customers can contact you? 
We can be contacted by emailing [email protected] or via phone on 01633 357878. We are very active on social media and love to run competitions and offers to our customers and followers. Please follow us on Facebook, Instagram, Tik Tok and LinkedIn @JacobsBoutiquexo 
🙏 Do you enjoy reading Cwmbran Life?
If you enjoy Cwmbran Life, please consider supporting the site so I can keep writing and sharing the stories you like to read. Every story, photo or video has taken time to produce and share with you. News isn't free. There are several ways you can help me spend more time out and about in the community:
🤝 Become a Facebook Fan subscriber.
☕️ Buying Me a Coffee – Make a donation or become a subscriber.
💻 Businesses can advertise on site's business directory or take out some sponsored social media posts. Email [email protected] and we can chat.
💸 Send a donation via PayPal.