This Banksy-style tribute to the NHS has appeared on a garage in Upper Cwmbran. Lyndon Reynolds can be revealed as the artist who spent several days sketching and finally bringing his vision to life.
Cwmbran Life spoke to the Sheenagh Reynolds, Lyndon's wife. She explained there is a lot of emotion in the mural of a NHS worker wearing a face mask emblazoned with the Superhero shield.
She said: "He inherited his passion for art from his talented dad Robert Reynolds, who sadly passed away on 12 December 2019 after spending eight weeks ventilated at the intensive care unit in Nevill Hall Hospital.
"This was 12 days after I lost my beautiful mam, Gwyneth Jamieson on 30 November 2019. She suffered a massive stroke and received incredible intensive care on the stroke ward in the Royal Gwent Hospital.
"This all came as a massive blow to our families as I was recovering from two years of complicated long, surgeries for two separate diagnoses of breast cancer. The first was in 2018 then again in 2019.
"I have received the most incredible, devoted care from the breast care team at Nevill Hall and the mind-blowing expertise of the team at Morriston Hospital's plastic surgery department.
"Without this care, I could well be very ill or not here by now.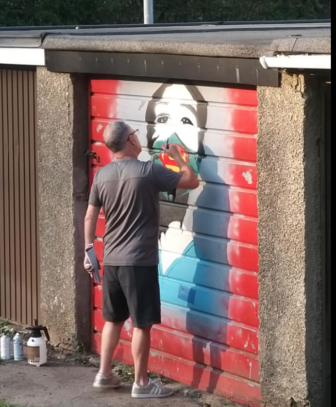 Their daughter works for the NHS
"Our wonderful daughter, Alys Claire, graduated last year with a first class honours degree. She joined the NHS the day after burying her beloved Gramps in January this year. She worked in Maindiff Court Hospital in Abergavenny and St Woolos Hospital where every patient had been isolated with COVID-19. She's now working in Ysbyty Ystrad Fawr in Ystrad Mynach
"To say we are proud of her is an understatement. This photo of her scrubbing up inspired Lyndon to show his appreciation to our wonderful NHS and our beautiful daughter.
"He has always been a massive Banksy fan but working long shifts in a factory doesn't generally allow time for hobbies.
"He's quite shy and was getting embarrassed by everybody stopping, even police and fire vans were giving him the thumbs up."
He started drawing out his idea on 20 April and finally brought it to life on Friday 24 April.